Dapper D featured in The Reflector - Online and in Print - April 8th, 2015:
Dapper D offers 'tomboyish' fashions fitting for women
Clothing brand was started by Battle Ground couple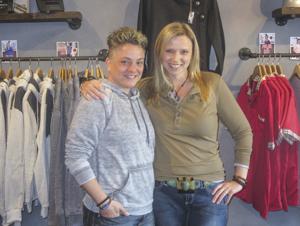 Photo by Joanna Michaud
Dapper D founders Vanna (left) and Rasha Pecoraro
THE DAPPER D Fashions clothing brand provides men's style clothing for women for the "dapper tomboy in each of us." Dapper D founders Vanna (left) and Rasha Pecoraro are pictured here in their style room located in the Battle Ground Village.
Posted: Wednesday, April 8, 2015 12:00 am | Updated: 10:32 am, Wed Apr 8, 2015.
JOANNA MICHAUD
staff reporter | 0 comments
"Be Brave, Be Authentic, Be You." This is what the Dapper D Fashions clothing store in Battle Ground is all about.
The idea of Dapper D Fashions, a men's style clothing line for women for the "dapper tomboy in each of us," was that of married Battle Ground couple Vanna and Rasha Pecoraro.
"I've always dressed in men's clothing, I was always very tomboyish," said Vanna. "It was always hard to find men's style clothing that fit me or clothes that didn't have all the glitter and stuff."
Vanna and Rasha also said it was difficult for Vanna to get good customer service when trying to shop in the men's department at most stores.
Vanna, 43, is a retired police officer from Los Angeles. After she and Rasha, 36, met in Portland and were then married in 2010, both women were trying to find something new to be passionate about and put some work into.
In the summer of 2013, Vanna and Rasha started talking about possibly getting into fashion and came up with the idea of a men's style clothing line for women. They received so much positive feedback and encouragement from family, friends and community members that they launched Kickstarter campaign in May 2014.
By mid June, Dapper D's Kickstarter fund was at more than $17,000, surpassing the Pecoraros' funding goal of $15,000. Vanna and Rasha were then able to order all of the clothing and projects for their Dapper D brand, Vanna curating pieces from all over the world.
"We own all of our inventory, it's great," Vanna said.
In July 2014, the Dapper D clothing brand was launched and available online. Originally, Vanna and Rasha planned to sell the clothes online through their website and also planned to continue holding "pop-up shops," which they have successfully held in Portland, Seattle and San Francisco. Pop-up shops and pop-up retail are temporary retail spaces that sell merchandise of any kind, creating short-term stores. They did hope to have an actual storefront eventually, but figured that was probably a few years away.
However, they were happily wrong.
"We got an opportunity to get into a retail space that we just couldn't pass up," Rasha said.
So, in the beginning of this past March, the Dapper D Fashions style room officially opened for business in the Battle Ground Village area at 1103 SE Rasmussen Blvd., Battle Ground. During the style room's opening weekend, Vanna and Rasha said they had a great turnout, with numerous people in the community stopping by, bringing flowers and offering their support.
"There was a lesbian couple who we've never met before (who came to the store for the opening weekend) who told us they had been worried that there might be protestors or something outside the store," Rasha said.
"It isn't just about the fashion," Vanna said. "I wanted to make people proud of themselves. I'm proud of who I am."
Rasha, who used to be a plus-sized model before losing 135 pounds with hard work and weight-loss surgery, helps to model some of the Dapper D clothing, along with Vanna and several of their friends. Rasha said they like to have their friends model the clothing as a way of representing the everyday person. She emphasized that all of their models are ethnically diverse and two of them are also transgender.
"We want to empower people to be themselves," Rasha said.
"My goal was to offer everyday clothes," Vanna said.
A couple of Dapper D's most popular selling items so far include "Be Brave, Be Authentic, Be You" signature T-shirt and the Zip Zip Hoodie. Vanna said they also plan to add some more plaid shirts, polos and some new button-down shirts at the style room. All of the accessories in the store are handmade, and, coming soon, Rasha said they hope to have some very special belts available handmade by a woman in Hawaii.
The woman repurposes fire hoses that have been damaged while being used to fight fires and turns them into belts. Rasha said they are very gender neutral and are also reversible. They hope to have some of the belts available for sale soon and would like to call it the Dapper D Hero Belt.
Vanna and Rasha live in Battle Ground with their 3-year-old daughter, Leilani. Currently, the Dapper D style room in Battle Ground Village is open Thursdays, 10 a.m.-5 p.m.; Fridays, 10 a.m.-5 p.m.; and Saturdays, 10 a.m.-5 p.m. Vanna and Rasha are also available for appointments at the style room, contact them at (360) 723-5288. To see some of the Dapper D clothing options, visit their website at www.dapperdfashions.com and visit their Facebook page, Dapper D Fashions.